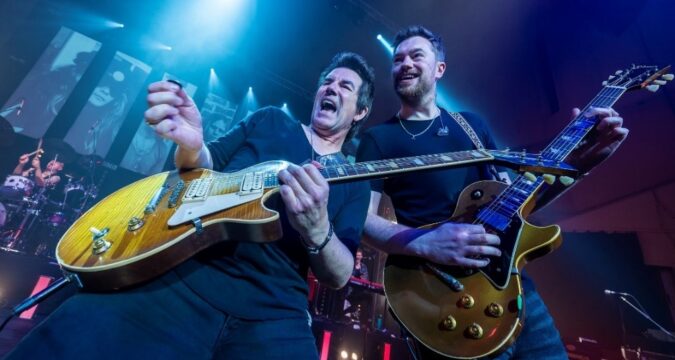 THE CLASSIC ROCK SHOW
 THE 'ULTIMATE LIVE JUKEBOX' ANNOUNCES 27-DATE UK TOUR FOR 2024
"A real gem of a rock show. Sore throat guaranteed" (Chicago Tribune)
The Classic Rock Show will return to the UK early next year for brand new live shows on the opening leg of its extensive 2024 world tour.
Promising to be bigger and even better and celebrating, once again, the very best of classic rock, the acclaimed band will thrill audiences on their new 27-date run of British shows in January & February 2024, in conjunction with CMP Entertainment.
The Classic Rock Show perform with note-for-note precision, bringing every rock fan's favourite original iconic and era-defining recordings back to life on-stage, with an amazing sound and light show to match.
Paying tribute to its favourite rock heroes, CRS thunders through legendary performances of music from the likes of Led Zeppelin, Dire Straits, The Who, Eric Clapton, AC/DC, Queen, Rainbow, The Eagles, Fleetwood Mac and many more.
Each show promises anthem after anthem, riff after riff and solo after solo, all culminating in a show-stopping guitar duel that is definitely not to be missed.
Tickets for the following new UK dates are on-sale now via Ticketmaster here
13 January     Gateshead – The Glasshouse
14 January     Gateshead – The Glasshouse
16 January     Edinburgh Usher Hall
17 January     Cardiff Utilita Arena
19 January     Liverpool Philharmonic Hall
20 January     Liverpool Philharmonic Hall
21 January     Birmingham Symphony Hall
23 January     Basingstoke – The Anvil
24 January     Malvern Forum Theatre
25 January     Leicester De Montfort Hall
27 January     Cambridge Corn Exchange
28 January     Sheffield City Hall
29 January     Shrewsbury Theatre Severn
30 January     Shrewsbury Theatre Severn
1 February     Salford Lowry
2 February     London Cadogan Hall
3 February     London Cadogan Hall
4 February     Norwich Theatre Royal
6 February     Guildford G-Live
7 February     York Barbican
8 February     Glasgow Royal Concert Hall
10 February   Hull Connexin Live
11 February   Nottingham Concert Hall
13 February   Warwick Arts Centre
14 February   Harrogate Royal Hall
20 February   London Cadogan Hall
21 February   Eastbourne Congress Theatre
Talking about the band's new 2024 tour, Classic Rock Show vocalist/guitarist & musical director James Cole said today;
"2024 is a big year for the Classic Rock Show – for example, we will be venturing outside the UK, which is a big deal for us. I believe 'classic rock' has now developed from an era into its very own genre, which allows us to develop the show and make it bigger and better every year. We have a loyal fanbase and my aim every year is that they experience a show which is new but with a very familiar feel. For anyone who has not seen the Classic Rock Show before, we want to deliver a performance that takes you back and allows you to feel the emotions and excitement you felt the very first time you heard these songs, whether that was on record, cassette or even CD!"
Featured artists on The Classic Rock Show 2024 world tour are;
James Cole                 Musical Director/Guitar/Vocals
Wayne Banks             Bass/Vocals
Pete Thorn                  Guitar/Vocals
Jesse Smith                Lead Vocals/Guitar
Henry Burnett              Keyboards/Vocals
Jess Harwood             Vocals/Keyboards
Rudy Cardenas           Lead Vocals
Tim Brown                   Drums
Follow The Classic Rock Show;  WEBSITE  FACEBOOK  YOUTUBE